Amritsari Papad & Wadiyan - Specialty of Amritsar.
Created Date: 22 Jan
0 Comments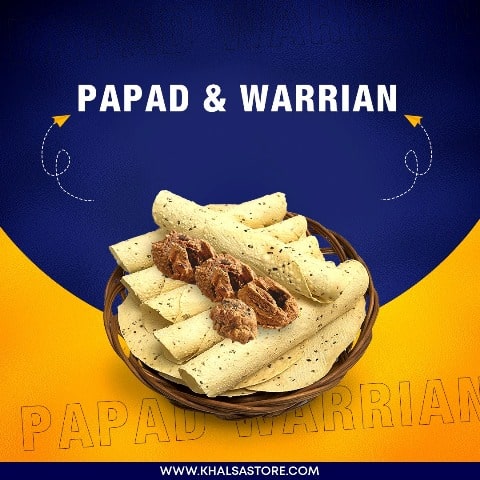 Amritsari Papad or papar is a variety of snack specific to Amritsar, Punjab. Amritsari Papad is famous across the world
Amritsari papad is made from dough, hulled urad flour, liberally with salt, black pepper, cumin, coriander, pomegranate seeds, and sometimes garlic. The proportions may be variable, resulting in variety in taste and pungency.
Dried papad can be kept for several months without refrigeration. Now a days Papads are made with machines but traditionally papads were rolled with hands.
Papad is prepared for eating by roasting on an open flame, and takes few seconds to get ready. Papad can be served chopped onions, carrots, Pudina Chutney, etc. Papads are low on calories.
Amritsari wadi is a essential in most Punjabi homes. They are a made of urad dal and spices and are sun-dried as dumplings. They can be stored for a year.
KhalsaStore provides authentic Amritsari Papads and Wadiyan to its customers, across the world.